Worthy Farm, Pilton, UK.
Few would dispute that Glastonbury Festival is a place like no other on Earth - it's an experience only fully understood by those who have traipsed through its fields almost every summer for the last 48 years. Each June, with the exception of 'fallow' years, nearly 200,000 people from all across the globe descend on the small Somerset village of Pilton as they make their way to Worthy Farm. Each come for their own reason, their own experience, with many veterans returning on an annual pilgrimage, having been bitten by the Glastonbury bug at some point previous.
After my first experience in 2005, I was struck not just by the diversity of people in attendance, but by the freedom they seemed to be able to find upon arrival. It's a safe place, a place lacking in judgment and a place of free expression. This naturally creates one of life's great melting pots - one which I was keen to capture on camera.
The Pilton Portrait provides the viewer with a brief snapshot of life beyond the Pyramid Stage - attempting to reach the core of what (and who) makes Glastonbury what it is. From young to old, fringe performers to circus acts, sewage collectors to charity workers - each with their own unique reason for being there, each truly fascinating in their own way.
Thank you to my willing subjects and to Glastonbury Festival for their help and support.
_______________
Harry - Selling Glastonbury's only officially authorised candles. Hand made in Cornwall for the last 30 years.
Paul - Grounded Ecotherapy: a charity which uses woodwork activities as a form of drug rehabilitation therapy.
Sian - Mother, Wife and lover of life
Stu - veteran Glastonbury steward
Joe - band leader of Freddie & The Freeloaders: entertaining the Glastonbury crowd for 8 years.
Christina - circus performer found in Lost Vaugeness
Gregg - Firewood and Oaktree seller
Matthew - Avon Fire and Rescue: Helping to cool down people on a very hot Wednesday
Bertram - a stone circle angel on Summer Solstice
Steve- beard enthusiast & music lover
Beth - 'Don't pee on the land' steward
Callum - farm worker and all important transporter of sewage!
Nick & Toby from WOWH - an impressive four gigs at Glastonbury 2017
Laura, friends & giraffe. First festival, final night.
Paul - backstage security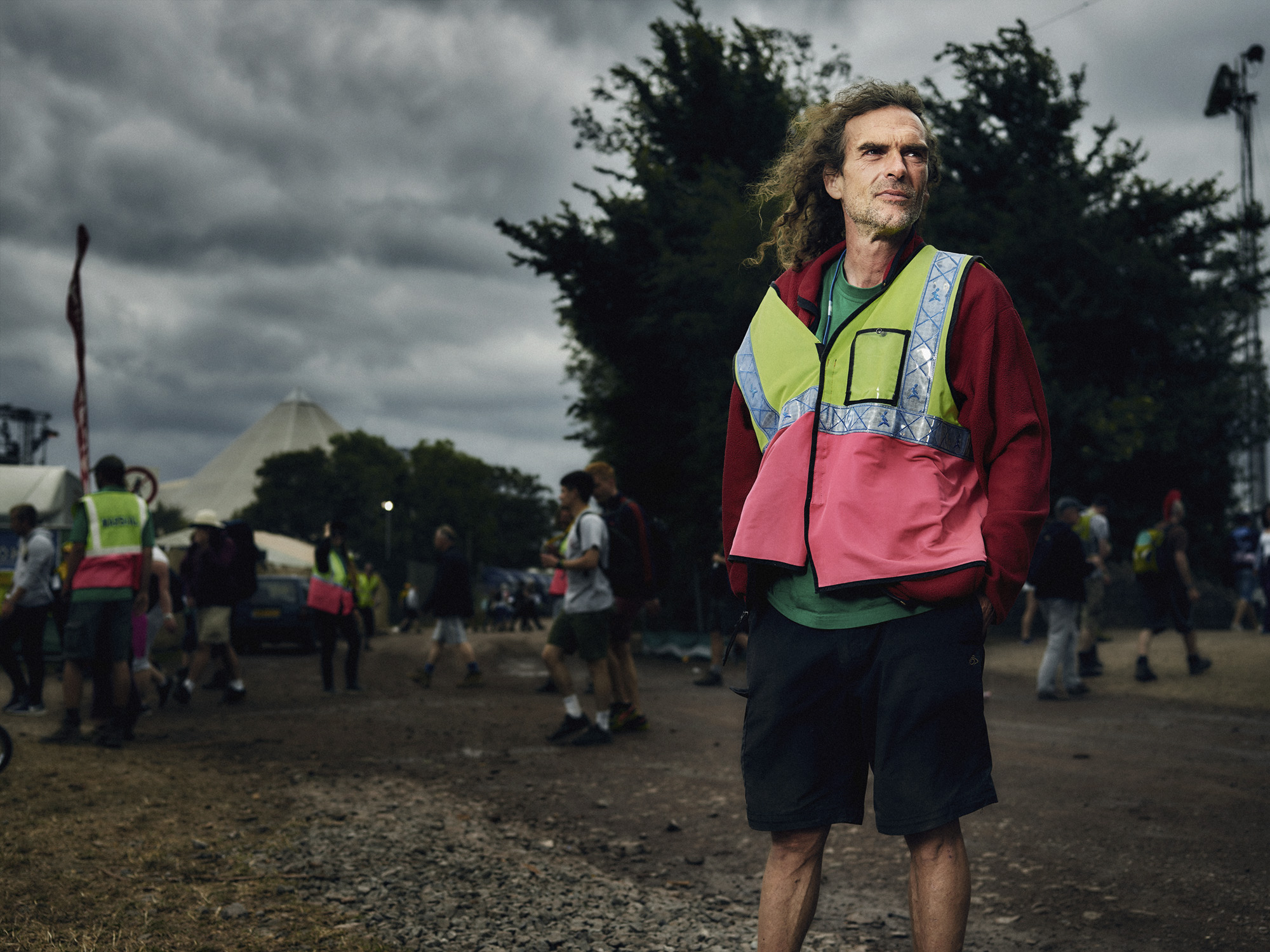 Scott - traffic steward, nomad and festival veteran
Mike - toilet cleaner: the price of entry
Rob - Illuminated Apparel: stall holder working late into every night.
Scott - Avon & Somerset Police
Anon - somewhere in the Unfair Ground